Welcome to I Don't Want This Kind of Hero Wiki!
이런 영웅은 싫어; I Don't Want This Kind of Hero is authored and illustrated by Samchon. It is a story about Naga, a high school student who is an extraordinary psychic, becoming a recruit of the hero agency SPOON and the events after. He joins in the fight against KNIFE, the villain organization led by Baek Morae.
Featured Image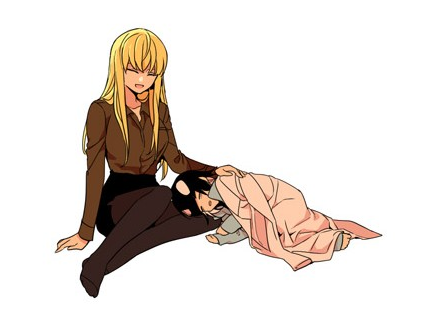 Featured Chapter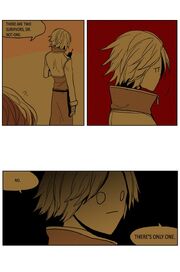 We see Dune's past when he was a hero, where he drags himself and his friend out from a massacre. He escapes safely, but he finds out that his friend Claude had already been dead. Meanwhile, Naga is confronted by Baek Morae, who tries to coerce him to join KNIFE. He tries making Naga's trust sway by telling twisted truths of other's, expecially Dune. In the end, Naga, who is unable to run away because of Baek morae's threat that he'd kill Dune, reluctantly joins him in confronting Dune.

Featured Character
Hyena is Naga and Sasa's team mate and the youngest member of SPOON. She is a witch who can summon demons and fly with a broom.
She is an enthusiastic, and headstrong girl with a bit of a sharp edge. At first glance, she seems very pure and naive. This is a front however, hiding her devious and short-tempered side. Read more...
<poll>
Do you like Number 2. ?
Yes
No
</poll>

Daum

Black Behemoth   •  Jack, the American Ghost   •  Red Storm   •  Trace   •  Trinity Wonder   •  Twelfth Night (2nd Wiki)   •  Wake Up Deadman

Foxtoon

Lezhin

Appetite   •  The Devil's Boy   •  Minverse series   •  Tale of Eun Aran   •  Skill of Lure   •  White Epic

Naver

Ability   •  Abide in the Wind   •  Americano Exodus   •  Aura from Another Planet Wiki   •  Bastard   •  Blade of the Phantom Master   •  City of Dead Sorcerer   •  Crepuscule   •  Dear, Only You Don't Know   •  Denma   •  DICE (2nd Wiki)   •  Divine Bells   •  Dr. Frost (2nd Wiki)   •   The Flow   •  The Gamer (2nd Wiki)   • Gepetto   •  Girls of the Wild's   •  The God of High School   •  Gosu (The Master)   •  Hardcore Leveling Warrior (Lucid Adventure)   •  I Don't Want This Kind of Hero   •  Knight Run   •  Kubera   •  Lessa   •  Lookism   •  Magician   •  Mima of the Forest   •  Nano List   •  Noblesse   •  Nowhere Boy   •  Orange Marmalade   •  Refund High School   •  The Most Beautiful Moment in Life, part 0 (Save Me)   •  SHADOW   •  Spirit Fingers   •  Sidekicks   •  Soul Cartel   •  Supernatural Investigation Department   •  TAL   •  A Thousand Years Ninetails   •  Tower of God   •  Transfer Student Storm Bringer   •  Trump   •  UnderPRIN   •  unTOUCHable   •  Winter Woods   •  Wonted

---